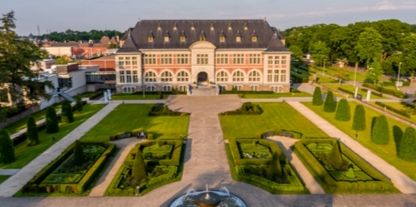 Terhills hotel, Maasmechelen
Limburg
About
Terhills hotel, Maasmechelen
Four stars, 59 luxury rooms: the Terhills Hotel in Maasmechelen is the sum of comfort and class. The neoclassical baroque style of the imposing main mine building is a showpiece of our industrial past. In the present, the building has been given a trendy, future-oriented interpretation ... Welcome to Terhills Hotel!
Amidst lush fauna and flora and impressive water features, Terhills Hotel nestles in the greenery of Limburg. Unique views from the pit rails and pithead buck bring the memory of the coal mining past closer than ever. As a trump card there is the hotel's enchanting French garden, as a link with the main gateway to Belgium's only National Park: the Hoge Kempen National Park, an unadulterated walking walkway.
It is also the gateway to another kind of paradise ... the shopping paradise of Maasmechelen Village! There you will be welcomed 7 days a week in a picturesque shopping setting. More than 100 luxury fashion and lifestyle brands are waiting for you. What are you waiting for?
Hotel room, bedroom, dream room... A total of 59 elegant and attractively furnished rooms, including seven suites and two family rooms. Naturally equipped with all the luxury facilities you could wish for and a beautiful bathroom. So your stay becomes a party in itself. You don't really want to leave here!
Terhills Hotel is a versatile location where business meetings with relaxation and fun can be combined with the proximity of the National Park, the Terhills Cable Park, Elaisa Wellness and Maasmechelen Village.
A new meeting complex along the hotel, with a view of the shaft towers, contributes to an inspiring and original environment.
Meetings, incentives, conferences, receptions, brainstorm sessions, corporate events, ... it is all possible here. From 8 up to and including 150 persons.
A cozy and delicious dinner? The menu of Terhills Brasserie makes it the perfect place to slide your legs under the table for a delicious meal. Our chef Dirk presents his careful selection of dishes with passion and taste. We have something for everyone.
In our relaxed, atmospheric setting with a view of the French garden, you are guaranteed to unwind during your meal. The hotel bar is the perfect location to enjoy a wide range of drinks and wines or a cup of coffee. Ideal for those who want to relax or recharge their batteries after an active day!
At Elaisa Energetic Wellness you get all the space you need to enjoy and relax to the depths of your being. In this brand new wellness complex you will find a new balance, surrounded by the beautiful nature of Terhills, geometric shapes, crystals and other natural materials and the influences of ancient world cultures. Enjoy a unique, natural wellness experience.
---
Get in touch
Interested in organising a meeting or event at this fabulous location?
Contact us for our special rates.
When completing this form, we will only use your information to respond to your question or comment. View our complete privacy policy.