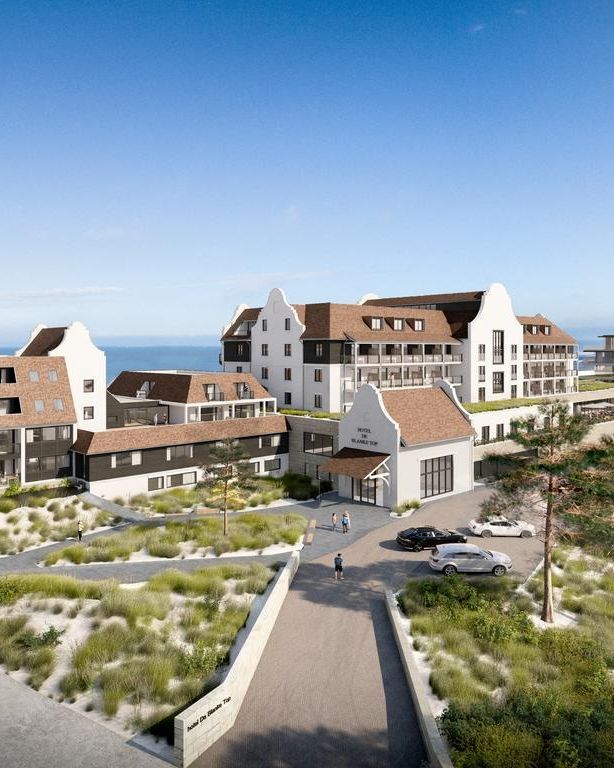 Hotel De Blanke Top Cadzand
The North Sea
About
Hotel De Blanke Top Cadzand
The undulating North Sea, the drifting sand and the meandering dunes form the backdrop for a relaxing oasis. In the summer of 2019, the newly renovated Hotel De Blanke Top reopened on one of the most beautiful dune tops in Cadzand-Bad. The 93 rooms, the 3 restaurants and the spacious B. Spa & Wellness Hotel come together to offer a retreat for anyone who is looking for a break from the demands and routines of daily life.
After a complete renovation and the construction of a new wing, Hotel De Blanke Top reopened in 2019. Arcas Architects and Studio Linse worked out the plan to honour the surrounding nature. With earthy colours, natural materials and soft fabrics, they realised an oasis of tranquility. The crowning glory of their work was the nomination of the expansion and interior for the Entree Best Hotel Design Award.
In addition to the three restaurants, wellness and fitness areas, Hotel De Blanke Top has a wide range of facilities. There is private access to the beach, an underground parking garage and a cosy children's club.
Rest comfortably under the luxurious linen of your king-size bed. From your room, you can enjoy views of the whispering North Sea, the beach or the Zeeland landscape.
In Restaurant Le Sommet, chef Philipse gives new meaning to the word 'refinement'. Enjoy a four, five or six course meal and journey through an abundance of international flavours.
Bar Brasserie Henriette is an ode to the cooking of grandmother Henriette de Milliano. Take in Zeeland's outdoors from the sheltered terrace or sit inside and see the beach stretch out from beyond the large windows.
Good morning. The variety of warm breads, local cheeses and vitalising nuts and seeds are just the start of the extensive breakfast in Restaurant Dunes.
The perfect place for a pleasant evening with friends or an exceptional tasting with colleagues. In The Wine House you will become acquainted with various international wines. Sommelier Patrick Corijn is pleased to introduce you to different grape varieties and the most beautiful wineries in the world.
From meetings to product launches or invigorating brainstorms: Hotel De Blanke Top has four renewed meeting rooms with lots of daylight, air conditioning, a modern presentation screen and a wireless ClickShare presentation system.
---
Get in touch
Interested in organising a meeting or event at this fabulous location?
Contact us for our special rates.
When completing this form, we will only use your information to respond to your question or comment. View our complete privacy policy.