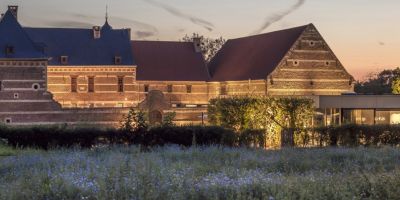 Martin's Rentmeesterij, Bilzen
Limburg
About
Martin's Rentmeesterij, Bilzen
Martin's Rentmeesterij is situated 150m of a heritage site: the Grand Commandery of Alden Biesen. An exclusive immersion in culture and gastronomy which combined with relaxation makes your stay memorable.
The hotel − created in the Commandery's 13th-century estate agent's house − is augmented by a contemporary wing that plays on the contrasts between the strength of the past and the purity of more recent developments. With its 69 guest rooms and 3 junior suites (in the historical part), AKKO restaurant and pleasant terrace, bar and meeting and banquet facilities, it lends itself particularly well to holidays, business events, receptions and wedding dinners. The hotel also has a wellness area with pool and with a look out onto a pleasant courtyard and extensive wooded gardens.
Martin's Rentmeesterij is a tourist attraction in its own right. The Commandery of Alden Biesen was built between the 13th and the 18th centuries by the Teutonic Knights − a German Hospitaller brotherhood, which later became a military order. The site has since been beautifully restored and converted into a cultural, tourist and conference centre. It was listed in 2000. The Castle and its various infrastructures are all accessible from Martin's Rentmeesterij, via a pleasant walk through the estate's gardens.
The region around the site is also bursting with activities. First of all, for nature lovers, with its natural parks, orchards and bike paths that invite discovery on two wheels. The town of Bilzen also delights shoppers (Maasmechelen Village is nearby) and lovers of fine food, culture and history.
Martin's Rentmeesterij is just 10 minutes from Maastricht, and less than 30 minutes from Liège, Tongeren and Hasselt. It is also very easy to reach from Cologne, Bonn, Dusseldorf and Eindhoven (1.5 hours by car).
With its meeting and banquet rooms, lounges, restaurant, beautifully wooded gardens ... The hotel will be the ideal place for holding weddings and business events.
---
Get in touch
Interested in organising a meeting or event at this fabulous location?
Contact us for our special rates.
When completing this form, we will only use your information to respond to your question or comment. View our complete privacy policy.