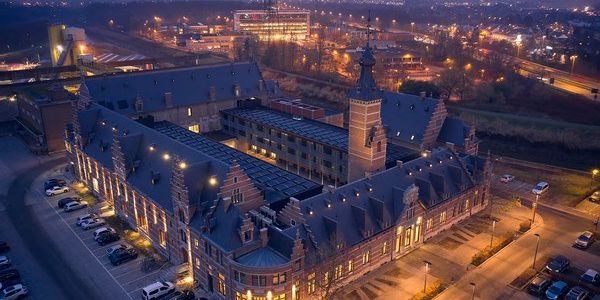 Van der Valk hotel Mechelen
Antwerp
About
Van der Valk hotel Mechelen
Mechelen is located in the heart of Flanders, halfway between Brussels and Antwerp. If you come by train, car or plane: Mechelen is easily accessible for everyone. Be seduced by so much urban charm and conviviality. Mechelen is surprising and authentic!
Van der Valk Hotel Mechelen is located in the old swimming pool, den Ouwen Dok, of the city. So it is a monumental building bursting with historical details. Several generations of people from Mechelen still look around very nostalgically when they walk into the building. Both young and old used to learn to swim here.
In 1924 the resu-like building opened its doors. For almost 80 years Mechelaars from all corners of the city came here every day. Unfortunately, the swimming pool was closed in 2001. Fortunately, the Wohrmann family gave the old swimming pool a new, beautiful destination.
Because it is a monumental building, many original elements have been preserved. For example, the large swimming pool has been preserved and transformed by a beautiful pond. The hotel also has different types of rooms, which in turn differ from each other by the shape and character of the building.
The rooms of Van der Valk Hotel Mechelen are stylishly furnished and offer everything you could wish for as a guest. The rooms are equipped with comfortable beds for a good night's sleep and are all equipped with free Wi-Fi.
In addition to a beautiful luxurious bathroom with a separate toilet, toiletries, hairdryer, towels and other facilities, the room is also equipped with a telephone, desk, safe, ironing facilities and a minibar.
At restaurant Ouwen Dok, cosyness, local products and professional service are central.
Discover the most delicious regional dishes, professionally prepared by our experienced chefs in a unique setting.
Besides our restaurant you can also enjoy a delicious cocktail or a quick meal in our cozy lounge bar, Bar Bernard.
A romantic dinner, a nice breakfast or a family party: at restaurant Ouwen Dok you are welcome for every occasion.
We would also like to welcome you on our brand new Zuiderterras. The place to take a delicious aperitif after a long day at work or to start the weekend well. Enjoy a fantastic holiday feeling with a (non-alcoholic) cocktail in your hand while overlooking the beautiful Dijle.
Van der Valk Hotel Mechelen has 6 multifunctional meeting and party rooms for both large and small events. With a central location and a unique setting, you've come to the right place for your next meeting, corporate event, wedding or other celebrations.
---
Get in touch
Interested in organising a meeting or event at this fabulous location?
Contact us for our special rates.
When completing this form, we will only use your information to respond to your question or comment. View our complete privacy policy.