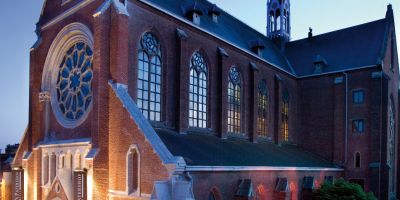 Martin's Patershof Mechelen
Antwerp
About
Martin's Patershof Mechelen
It's an art to convert a house of worship into a hotel. Martin's wanted to preserve the past and still meet the expectations of today's demanding traveller. It is generally acknowledged that Martin's Patershof has achieved a fine balance between these two – the hotel can receive travellers looking for an out-of-the-ordinary stay in an exclusive historic setting in ideal circumstances.
In 2006, the Martin's Hotels Group applied for a building permit in order to transform the former church into a 4-star hotel – this ambitious project is unique in Belgium. In June 2009, Martin's Patershof opened its doors to welcome travellers from all over the world into an extraordinary setting.
The unique environment of Martin's Patershof guarantees a successful & unique event that will not be forgotten!
With years of experience in seminars and the increasing demand of different sorts of events we can organize any type of event. Our wide range of facilities will create a successful event!
We offer you : 3 meeting rooms with all modern facilities, 1 polyvalent room at the altar, a cosy Martin's Bar for a snack and a drink, a summer patio, underground car park and 79 non-smoking rooms.Transformer un lieu de culte en hôtel est tout un art, l'art de préserver l'héritage du passé tout en répondant aux attentes des voyageurs les plus exigeants. Le Patershof réalise cet équilibre périlleux. Et il propose aujourd'hui des séjours d'exception aux amateurs d'exclusivité et d'histoire.
---
Get in touch
Interested in organising a meeting or event at this fabulous location?
Contact us for our special rates.
When completing this form, we will only use your information to respond to your question or comment. View our complete privacy policy.